Fantastic Site
Martin Pipe Website
Full Site
ALAN KING has lost one of his stable stars following the surprise transfer of Tote Cheltenham Gold Cup prospect Toto Toscato to Martin Pipe.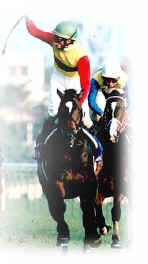 Martin Pipe
Trainers Profile
And Stable Form
Check out Latest
The Pipeline Below.
Martin Pipes own
Website.
Check out Latest
News from Pond House.
Valiramix Winner of two races last season and third in Sandown's Championship Hurdle is probably the nicest horse at Martin Pipe's yard. He was third behind Landing Light at Sandown and is a young horse who is still improving. However, I'm not sure if he'll be kept hurdling or whether he goes chasing.
Edredon Bleu has been involved in championship races for the last four years during which time he has won the Grand Annual Chase and Queen Mother Champion Chase at Cheltenham and Sandown's Championship Chase]and it'll be a hell of an achievement to get back to Cheltenham in March.

Carlovent ran well in the Championship Hurdle at Sandown [runner-up to Baracouda and he's a horse who could get into the frame at Cheltenham sometime during the season or at the Festival. He's come back in and seems very well.



Small selection of horses to follow from the yard.
Arlas - Should win races.
Armen - Exciting Prospect
Ashley Muck - Big strong horse.
Auetler - Decent Performer.
Ballysicyos - Should win races
Bebe Bleu - Has plenty ability
Blanville - On decent mark
Blowing Wind - G/Nat Target
Bounce Back - Exciting addition to stable, one to note.
Cadougold - Old timer
Caesar's Palace - Hopeful of return to winning ways.
Carlovent - not easy to place this season.
Carryonharry - Useful Type
Charles Spencelayh - One to note.
Copeland - Very capable winner.
Cyfor Malta - Decent Chaser.
Dark Fairy - Will win races.
Dark Strangers - Chases to be won with him.
Deano's Beano - Goes well fresh.
Deferlant - Will win races.
Exit Swinger - Unlucky last year.
Gaurd duty - Staying handicaps to be won with him.
Gun'n Roses 11 - expecting big runs from him.
Heros Fatal - Hard to place.
Hit And Run - One for the shortlist.
Ilnamar - Really exciting Chaser.
Imperial de Thaix - Should win races.
Infini - Nice Horse
Inflation - Good prospect
Iorana - Will do well
Iris Bleu - Will make his mark
Isful - Plenty stamina.
It Takes Time - Exciting Prospect.
Iznogoud - Very useful recruit.
Janus du Cochet - Has potential
Jetbejay - ?? Could be decent
Jean d'Auteuil - One to look forward to this season.
Lady Cricket - ???
Live The Dream - Will do ok
Majadou - Things not going his way.
Majed - Could be special.
Manx Magic - Tony McCoy keen on this horse.
Maragun - Will win races.
Miss Cool - Sure to do well.
Miss Fara - One to note
Montreal - Expected to do well.
Mr Cool - Sky's the limit
Mujalina - Another to follow.
Polar Camp - Very smart recruit.
Polar Red - Really looking forward to his debut.
Present Bleu - Can win more races.
Ravenswood - Classy Individual
Rodock - Nice horse, very tallented.
Royal Auclair - Cheltenham prospect.
Royal Predica - Does not go on soft.
Seebald - Capable of holding his own.
Shooting Light - Sure to make his presence felt.
Ski Pass - Chaser for the future.
Sulphur Springs - Terrific horse,
Sweet Sonorita - Keen & fast.
Take Control - Stays really well, needs cut & Welsh Nat prospect.
Tarxien - Make a decent chaser.
Tissifer - ?? Hopeful
Tresor de Mai - Very good chaser, on a winning mark.
Turkestan - Sure fire future winner.
Upgrade - Smart Chaser,.
Valiramix - Stable Star & one to follow.
Wahiba Sands - Will run good races.
Westeender - One to watch
You're Agoodun - Should win a race.
You're So Cool - One of stables top bumper horse's.