Equipment
The equipment I use varies as I have preferences for different occasions.
Nikon 885 Digital Camera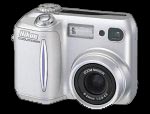 My first broke down after 2 weeks. Nikon said it was unrepairable and replaced it.
The problem was it kept coming up with System Error. The new one seem ok but
I am still a bit wary of it when pushing it to the limits. Really like the camera
as it takes some great pictures which tend to be a bit red at times. This is easily corrected.
The Coolpix 885 is a camera which deserves the Nikon name on the front.
It has almost the exact same feature set of the more expensive Coolpix 995,
but with a different lens and body. The photo quality is top notch, and there are more
manual controls than you'll ever need. The only real downsides are the battery situation,
small CompactFlash card, and lack of LCD info display.
For a midrange camera, the Coolpix 885 is one of the best out there.
What I liked:
Excellent photo quality

Great camera for macro shots

Every manual control ever conceived

Support for external lenses, filters, and flashes

Lots of info about your photos in playback mode
---
Next up is my
Minolta Maxxum 450i SLR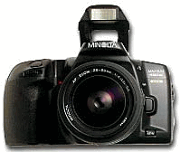 No matter what your photographic experience may be, the Maxxum 450si makes taking
pictures a profound pleasure. Thatís because itís equipped with fully automatic mode for
point & shoot simplicity, subject program selection for those hard-to-take shots,
and complete creative control with aperture priority, shutter priority, and manual exposure modes.

Features:

Single Lens Reflex Camera

Fully Auto Exposure Modes

Landscape Mode

Portrait Mode

Close-Up Mode

Night Portrait Mode

Sports Action Mode

Auto Focus With Manual Focus Override

Aperture & Shutter Priorities And Manual Mode

8-Segment Honeycomb-Pattern Metering

Built-in Pop-Up Flash with Red-Eye Reduction

Exposure Compensation

Film Speed Override

Requires a 2CR5 battery
---
Next up is one of my favorite cameras.
I bought this second hand for £25 Pound 15 years ago.
It came with loads of accessories including a 300mm lens.
I won may competitions with this old camera.
Praktica MTL 5 B

Fully mechanical SLR with light meter.
Manufactured : early 1980s
Taking lens : all auto/manual M42 lenses will fit
Shutter : Bulb, 1 - 1/1000 secs
Film speed : ISO 12 - 1600 setting for light meter. Any speed will work.
Winding : manual
Film Size : 135 (35mm)
Material : body plastic with metal details
---
My original camera and still going strong35 years old
Zenith 500
The Zenith 5 belongs to the series described above. With predications and equipment similar to those
of the Zenith 4, this camera looks different from the preceding two models due its
variable focus lens, the Rubin 1. The Rubin 1 lens has a relative aperture of 1:2.8 and is capable of gradually
changing the focus length from 37 to 80mm with the same relative aperture.
The use of the Rubin 1 lens considerably widens the picture scale range thus enabling the photographer
to choose the best composition and picture scale.
Two lenses with longer focuses, the 4/135 mm Tair 38 and the 5.6/200 mm T200, can be used with the zenith 5.