= = = = =
Latest News
Update From
Stable
= = = = =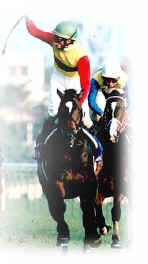 Fredy Murphy
Trainers Profile
And all Runners.
A Trainer who has given us many big price winners in the past.

Future Winners
Stable Jockey Adrian McGuire
is looking forward to riding
Truckers Tavern
&
Narrow Water
Both very Classy.
Moonlight Magic - One to note


Small selection of horse's to follow from the yard.
Season 2001/02
Ascot Touch - Well Liked, Ideal 2m 4f Hurdles and Chases.
Barrelbio - Can win a decent race.
Belle d'Orsini - Needs 2m4f on good ground, decent prospect.
Best On Show - Very Promising Horse, will love 3m on soft ground.
Bold Investor - Unsure about him but could do well.
Camp Nou- Sadlers Wells bred but needs time.
Carbury Cross - May prove difficult to place. Wants 3m on good ground. Can act on soft.
Celtic Vision - May need time.
Charter Ridge - Must have good ground, well Handicapped at the moment.
Creon - Keeping this one under his hat. Watch the market.
Double Timer - JP horse so watch the market.
Follow Me - Soft ground hurdler who should win a race.
Intersky Falcon - Loves top of the ground. Moderate horse.
Iris's Gift - Horse with potential.
Joss Naylor - Needs experience and should win races.
Just An Excuse - Should win 3m Novice Chases.
Keen Leader - Mud lover, will make nice Chaser.
Kemal's Council - Make a 3m Chaser who needs soft ground.
Laal Yan - Should win races.
Legal Right - King George target.
Lively Desert - Needs soft ground and a test of stamina.
Lorenzino - Should do ok.
Market Scan - Needs soft ground and a galloping track.
Master Tern - Has had wind problem, Owned by JP watch the market.
Mighty Montefalco - Showing promise.
Mini Sensation - Wants Heavy ground and 3m.
Moonlight Magic - One to note
Narrow Water - Classy sort to follow.
Native Man - Prefers good ground, Watch smaller Tracks.
Pegasus The Paddy - Has showm promise at home but not on track.
Prokofiev - Has ability, goes best for Liam Cooper.
Quazar - Should win Races
Radiation - Needs 3m on good ground.
Could win decent Chase.
Rainbow Dance - Will win races.
Red Brae - Should do ok
Scrahan Cross - Must have soft ground, will win a good Chase.
Sudden Shock - Needs some cut and nice prospect.
Top Of The Left - Will win races.
Tribal Tract - Needs soft over 3m and will win races.
Trooper Collins - Will do well if allowed to go Hurdling.
Truckers Tavern - Classy sort.
Under Wraps - Will do well on soft ground.
Water Front - Back next year and will win again.