= = = = =
= = = = =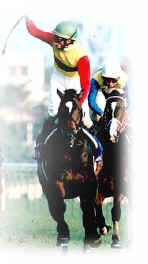 Mrs Mary Reveley
Trainers Profile
And all Runners.
A Trainer who has given us many big price winners in the past.

Future Winners



Small selection of horse's to follow from the yard.
Season 2001/02
A Piece Of Cake - Goes well soft & one to follow.
Blakeney Coast - Future Chaser. classy horse.
Bneya - One to note.
Bramble Fair - Thres miles no problem.
Colorful Life - Has a future in staying handicaps.
Fullopep - Needs good or better.
Icy River - Plenty Of Ability.
II Cavaliere - Good flat horse to watch out for.
Junkanoo - Watch out in winter, one to note.
Kaldo du Charmil - Will progress with racing & well liked.
Kindle A Flame - Should win a little race.
Konker - 2 miles is as far as he wants.
Ledgendry Line - Goes on most ground and prefers 3 miles.
Let's Fly - Well Liked & one to note.
Loop The Loup - Needs fast ground.
Man Murphy - ????
Marmaduke Jinks - Will win races.
Mental Presure - Needs fast ground.
Merry Masquerade - May go back to hurdling.
My Line - Real trier, worth noting.
Northern Native - well Bred, Plenty promise.
Oath Of Allegiance - Plenty ability but hard to place.
October Mist - Well thought of & one to note.
Out Of The Shadows - Better than her Kelso run.
Powder Creek - Well liked
Robbo - Wants soft and great servant.
Sleeping Night - High Class in France, coming along nicely.
Supreme Bramble - Plenty potential, sure to win races.
Tees Components - Has the makings of a decent horse.
The Granby - ???
The Major - Will win more races.
Time Of Flight - Has plenty ability but does not use it.
Whistling Dixie - One to note.